Resources for Reopening Our Libraries
This page will be updated continually with relevant information and resources to help you safely and confidently reopen your library. If you have resources you feel have been beneficial to your library's planned reopening and/or have knowledge of reputable vendors for obtaining safety equipment, please send the information to
holly.klingler@neo-rls.org
.
The sources listed below have been suggested by libraries in our region. Their inclusion in this list does not imply endorsement by NEO-RLS of the product, process, service, or its producer or provider.
---
Current Plans/Announcements From Libraries
Below is a chart that shows when and how the libraries in our region are preparing for re-opening. In addition to providing dates for when they plan to do curbside pickup and re-open their building, the libraries included additional protocol and service plans which you can download here. This list will be updated frequently as more libraries share their plans. If you have not yet reported your plans, please do so in this brief survey.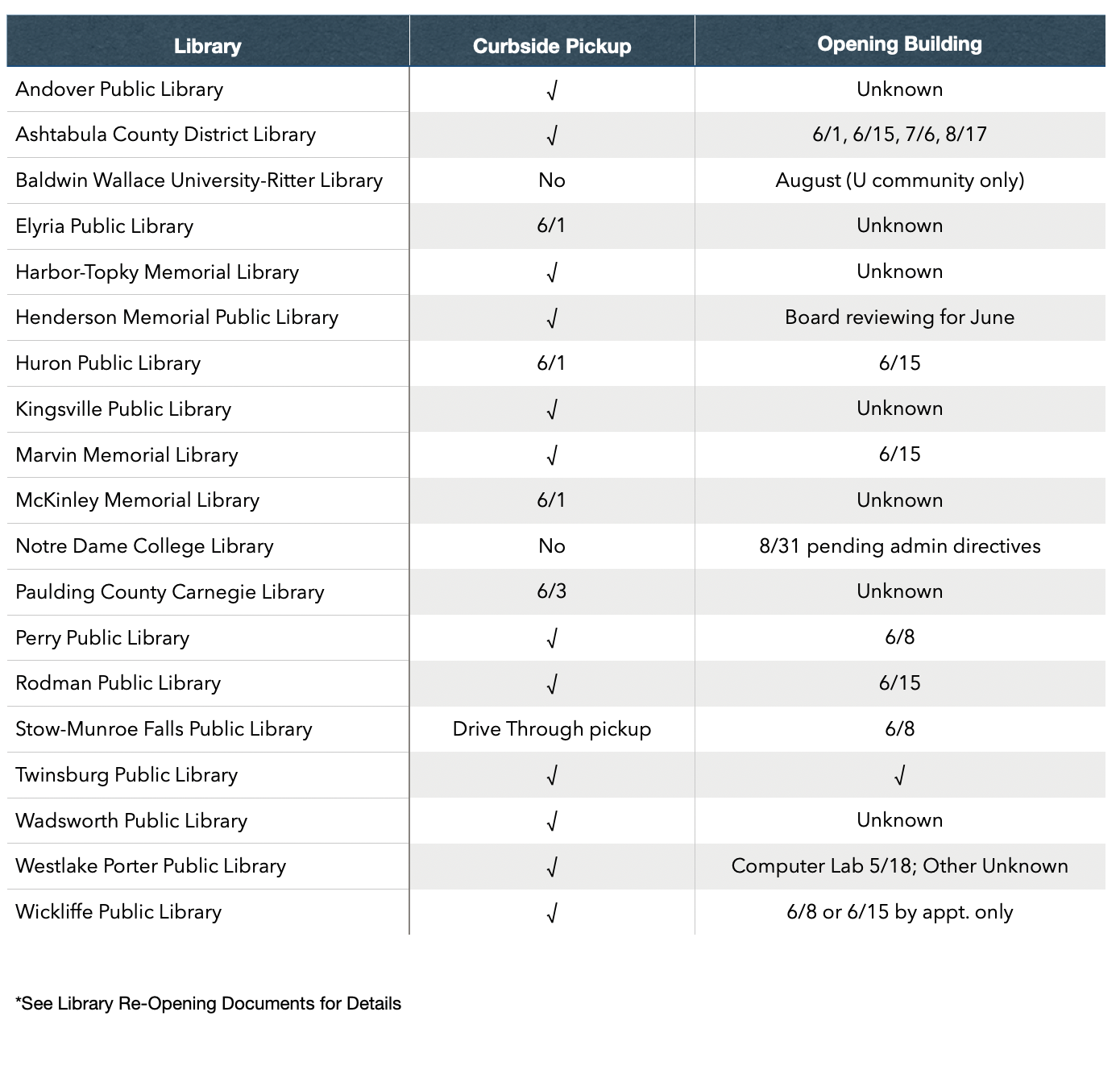 ---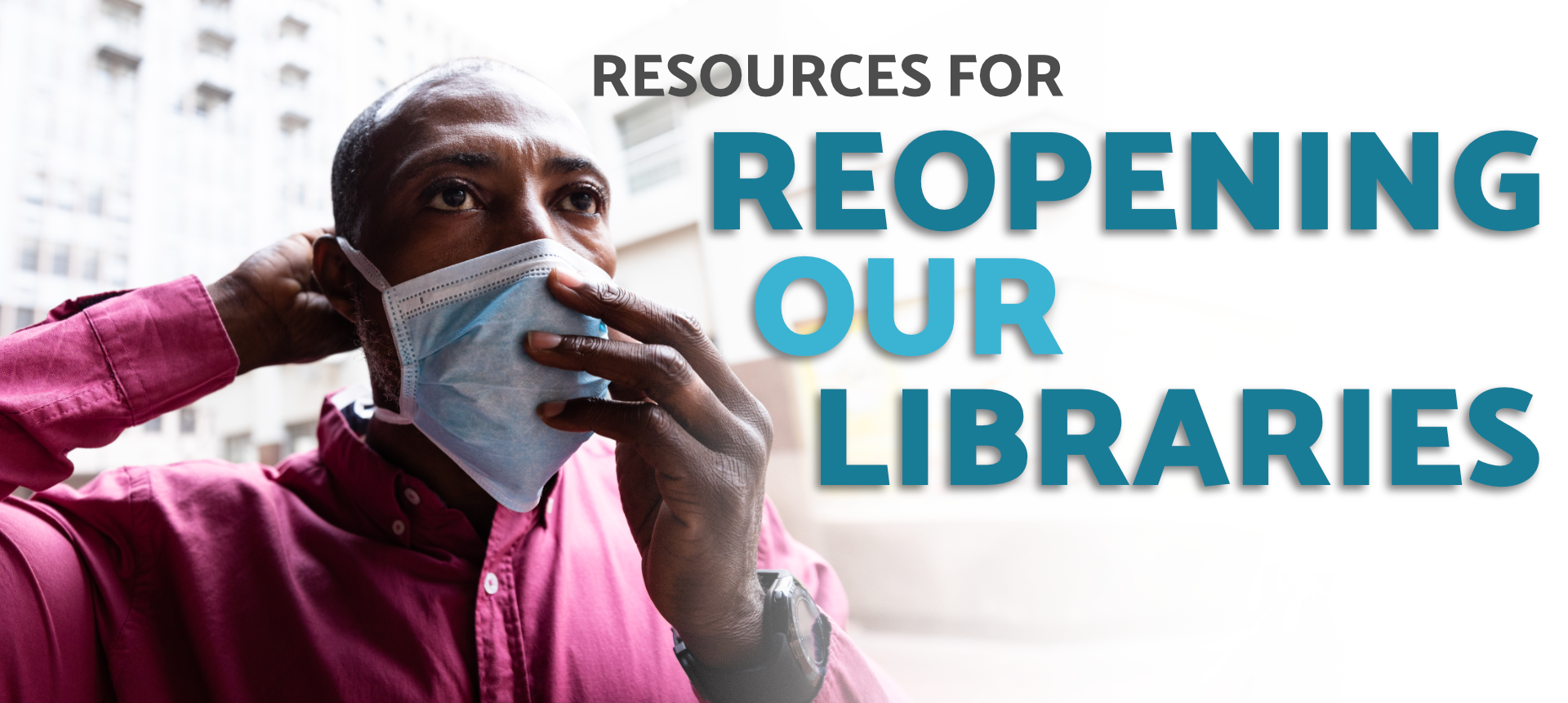 Akron-Summit County Public Library: Note From the Executive Director
Cuyahoga County Public Library Reopening Plan
Geauga County Public Library: Press Release for Phased Re-Opening
New Mexico State Library: Public Services Return-to-Work/Reopening Library Plan
Saint Paul Public Library: Contactless Pickup
Westlake Porter Public Library Re-Opening Manual
Willoughby-Eastlake Public Library: Reopening Plan

---
Reopening Information and Resources
American Libraries: Reopening: Not "When?" But "How?"
America's Small Business Development Center: Small Business Resiliency Guide
Business Continuity Institute: Free Resources on Making a Disaster Plan
Demco: Public Libraries: Your Planning Guide for Reopening
Hennes Crisis Communications: Communicate Your Re-Opening Amid COVID-19
IFLA: COVID-19 and the Global Library Field: Reopening Libraries
Institute of Museum and Library Services (IMLS): COVID-19 Research Partnership to Inform Safe Handling of Collections, Reopening Practices for Libraries, Museums
John Thill (Idaho Library): A Phased Reopening Plan for Libraries as COVID-19 Restrictions are Lifted
Library Journal: As COVID-19 Threat Grows, Libraries Balance Patron Need with Library Safety and Containment
MHA Consulting: Business Continuity Management for Disaster Recovery and Risk Mitigation
Ohio Department of Health: Responsible Protocols for Getting Ohio Back to Work
Ohio Department of Health: Responsible RestartOhio: Consumer, Retail and Services
Ohio Manufacturers' Association: Checklist for Reopening and Operating in a Post-COVID Environment
OCLC and IMLS: REALM Project: Re-opening Archives, Libraries and Museums Information Hub: A COVID-19 Research Project (UPDATED)
OLC Best Practices for Ohio's Public Libraries (Includes Public Library Re-Opening Roadmap, Best Practices, Editable Signs and More)
Public Libraries Online: Libraries Contemplate Reopening
State Library of Ohio: May 5-Statewide Delivery Update
---

Webinars and Programs
Communico: Social Distancing Checkouts: Keep Staff and Patrons Safe
IMLS: Mitigating COVID-19 When Managing Paper-Based, Circulating, and Other Types of Collections
NEO-RLS: Facilities and Admin Meeting/Webinar: Kevin Echols: Pandemic Re-Opening Planning
NEO-RLS: Overview of SharedWork Ohio and CARES Act (Free: Registered Webinar)
---

Personal Protective Equipment (PPE)
Association of Professionals in Infection Control and Epidemiology: Donning and Doffing PPE Competency Validation Checklist
CDC: How to Properly Wear, Make or Create a Cloth Face Covering to Slow the Spread of COVID-19
CDC: Sequence for Putting On Personal Protective Equipment (PPE)
CHKD.org: PPE Donning Checklist for Care of COVID-19 Patients
Infection Control Today: Donning and Removing PPE for Infection Prevention
Ohio Department of Health: FAQs on Face Masks and Cloth Coverings in the Workplace
OSHA: Personal Protective Equipment
Rallypoint EMS NREMT Demos: Guidance on Wearing Gloves in Public During a Pandemic
Trillium Health Partners: Video on Donning and Doffing PPE According to CDC Sequencing
US Department of Health and Human Services: COVID-19 Personal Protective Equipment Information Resources
World Health Organization: Steps to Put On Personal Protective Equipment
---

General Workplace Safety
Lexology: Essential Services Guide to Keeping Workplaces and Employees Safe During COVID-19
National Employment Law Project: Rights and Resources for Worker Safety and Health During COVID-19
National Law Review: FAQ on Employee Safety and During Coronavirus
National Safety Council: Guidance for Employers: COVID-19 and the Workplace
Ohio Department of Health: Managing Anxiety Around COVID-19: Returning-to-Work COVID-19 Checklist
Ohio Department of Health: Coronavirus (COVID-19) Resources for Employees and Employers
Ohio Department of Health: Responsible RestartOhio Hub
Ohio Department of Health: Responsible Protocols for Getting Ohio Back to Work
OSHA: Guidlines for Preparing Workplaces for COVID-19
OSHA: Safety and Health: General Guidelines for All Workers and Employers
World Health Organization: Getting Your Workplace Ready for COVID-19
---
Printable Signage
CDC: Coronavirus Disease (COVID-19) Print Resources
CDC: Public Handwashing Posters to Print
CDC: "Stop the Spread of Germs" and "If You Are Sick"
Displays2Go: Free Downloadable 8.5 x 11 Signs for Businesses to Use in Response to COVID-19
Ping HD: Free COVID-19 Digital Signage Templates
Signs.com: Free Printable Coronavirus Signage
---

Materials Handling
American Libraries: How to Sanitize Collections in a Pandemic
IMLS: Mitigating COVID-19 When Managing Paper-Based, Circulating, and Other Types of Collections
Library Journal: IMLS, CDC: On Staff Safety, Handling Paper in COVID-19 Pandemic
Maryland State Library Resource Center: Handling Materials During COVID-19
School Library Journal: IMLS, CDC Offer Guidance for Disinfecting Returned Library Books
YALSA: COVID-19: Guide to Handling Materials
---

Social Distancing
Business 2 Community: Keeping a Customer-Centric Culture During Social Distancing
Gartner: 4 Ways to Ensure Social Distancing for On-Site Service Employees
ProgrammingLibrarian.org: Distanced, But Connected: Ways to Reach Your Whole Community
Public Health of LA County: Social Distancing Protocol for Businesses Checklist
SF.gov: Operate Your Essential Business: See "Prepare a Social Distancing Protocol"
---

Cleaning Public Surfaces and Technology
CDC: Cleaning and Disinfecting Your Facility
CDC: How to Clean and Disinfect Schools To Help Slow the Spread of the Flu
Cleveland Clinic: How Long Will Coronavirus
Minnesota Department of Health: COVID-19 Cleaning and Disinfecting Guidance for Schools and Childcare Programs
Minnesota Department of Health: COVID-19 Cleaning and Disinfecting Institutes of Higher Education
New York City Department of Health: COVID-19 General Guidelines for Cleaning and Disinfecting for Non-Health Care Settings
NPR: Disinfectant Wipes Safe for Computer Keyboards
Yale Environmental Health and Safety: COVID-19: Cleaning Computers and Electronics for All Computer Users
---

Vendor Recommendations From Our Libraries
Ajax Commercial Cleaning
Amazon Business for Government (be sure you are registered as such)
American Distilling Institute: Map of Distilleries Making Hand Sanitizer
Chromaflo Technologies (bulk hand sanitizer)
Cleveland Heights-University Heights Libraries Vendor List for Industrial and Personal Protective Equipment
D
aigger Scientific: COVID-19 Critical Products
Discountmugs.com: (Bulk face masks or hand sanitizer)
Evaclean: Protexus Cordless Electrostatic Sprayers
JanWay: COVID-19 Essentials
LibCal by Springshare: Online Appointments and Events Booking Software
Ohio Valley Supply Company (sanitizer and bulk wipes)
Quality Logo Products: PPE Equipment and Reopening Products/Signs
RGF Environmental Group: Reme HALO In-Duct Air Purifier (Effective against particulates, microbials and gases)
San Clean USA: Ohio-Based Disinfectant Company
: [See Information Sheet]
Sensource: Automated and Smart Occupancy Monitoring
Team Plastics (plexiglass barriers)
If you have had success finding protective equipment, supplies and more with a vendor, please reach out to us so we can add it to this list.