e-Tech Programs in a Box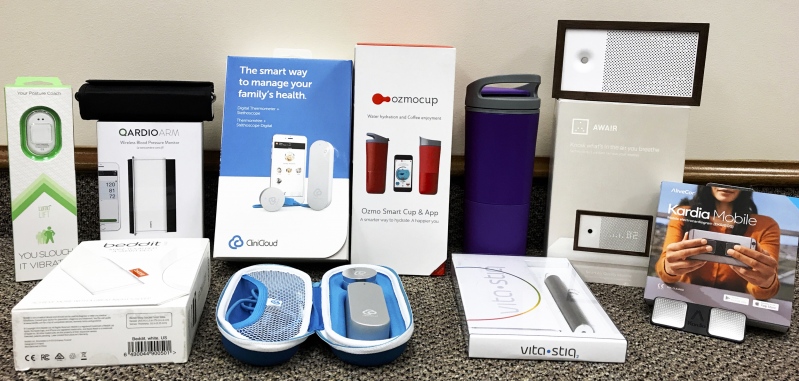 The
e-Tech Programs in a Box
are fully developed
adult patron or staff programs
that you can take right out of the box and present! Each kit comes with the newest and most innovative technology available on the market in addition to a fully-developed and interactive PowerPoint presentation that you can present to your patrons or staff.
We currently have four different e-Tech Programs in a Box available. The
Tech Trends Kit
explores what breaking-ground technologies. From e-health devices to VR to kids coding tech and more, you can play and experiment with some of the most innovative devices to hit the market. The dedicated
e-Health Kit
delves into the newest e-health devices and tools that can track your health, motivate you or even save your life. Many of these devices are make you feel as though you have a doctor in your pocket! The
Virtual Reality Kit
explains how you can discover the solar system, take a ride through the blood stream, visit the pyramids and tour Jurassic Park, all from your seat in the library. Virtual reality allows you to explore your world, wherever you are. Finally, the
Kid's Tech Kit
discusses innovative gadgets from coding to robotics to STEAM. Learn and play with kid's tech. Try out gadgets that are powerful educational tools teaching important skills like problem solving, decision making and more, while making learning fun.
Each e-Tech Program in a Box can be borrowed for two weeks at a cost of $35 for dues-paying member libraries and $70 for non-dues-paying member libraries. The e-Tech Programs in a Box are delivered via Statewide Delivery System.
For more information or to borrow any of the e-Tech Programs in a Box, please contact
holly.klingler@neo-rls.org
or call us at 330-655-0531.
For those who have already used the kit(s) at their library and would like to provide input, please click
HERE
.