Staff Development Conference aka Staff Day
Join Colleagues for a Day of Learning and Networking
Staff Development Day is a great way to meet colleagues from other libraries, be inspired by what others are doing at their libraries, and learn in a relaxed and engaging environment.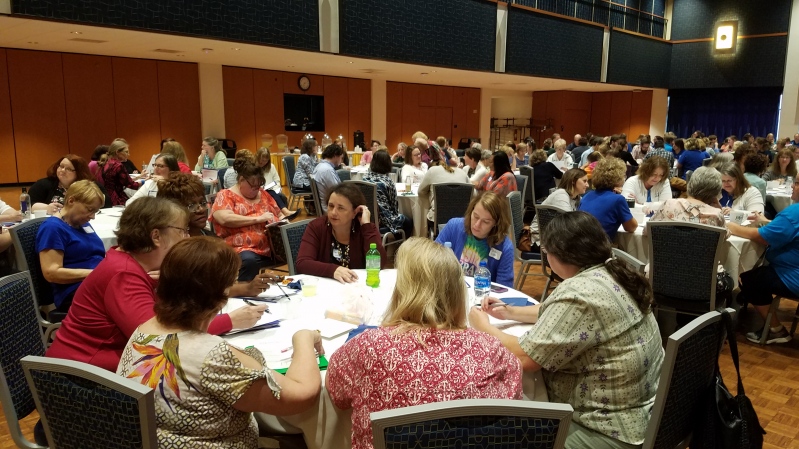 Although traditionally held on the Columbus Day holiday in October at the Kent State University Student Center, we are changing the date and changing the venue in order to keep costs as low as possible.
Have ideas for what you would like to learn at the Staff Development Conference? Contact Melissa Lattanzi to be part of the 2019 Staff Development Conference Committee.
WHEN:
The NEO-RLS Staff Development Conference aka Staff Day will be held on Friday, November 1, 2019
WHERE:
The Hilton Garden Inn,
8971 Wilcox Drive, Twinsburg, Ohio 44087
WHAT:
The day-long event runs from 8:45 AM - 3:15 PM and will feature a Keynote speaker and approximately 18-20 breakout sessions. Breakout sessions will cover a wide variety of topics aimed at all levels and areas of staff. Click here to see the program for the 2018 Staff Development Conference.
HOW MUCH:
Cost for the day is $10 +25.00 (surcharge for food and amenities) per person for Gold Members, $25.00 + $25 (surcharge for food and amenities) for Silver Members, $37.50 + $25 (surcharge for food and amenities) for Bronze Members and $50 + $25 (surcharge for food and amenities) for Geographic Members
HOW MANY:
We will take a maximum of 200 participants
HOW TO SIGN UP:
If you are interested in signing up for the Staff Development Conference or have questions, please contact Melissa Lattanzi. We will accept libraries on a first come, first served basis
DEADLINE TO SIGN UP:
February 1, 2019
LIBRARY MEETING SPACES:
We can reserve a room or area for your Library Staff Meeting after 3:15 as needed