Circulating Technology Kits
Reserve your technology kit today!
The staff at NEO-RLS are always looking for ways to help the region's libraries better serve their communities. One of the ways in which we do this is through our circulating technology kits. Maximize your ability to provide materials for your customers by borrowing NEO-RLS's STEAM e-Kits for children, tweens and teens, e-Tech Classroom Sets, VR Console Sets and so much more. Kits are shipped via UPS at no cost to the library. Please allow
at least two weeks
for preparation and shipping when reserving a kit.
Reserve a kit
here
or contact
jeff.laser@neo-rls.org
for more information.
Please complete an evaluation after you have finished with your circulating emerging technology kit. The evaluation feedback will help us keep the kits relevant and easy to use. For your convenience, the evaluation will be included with your service contract and is also
available here.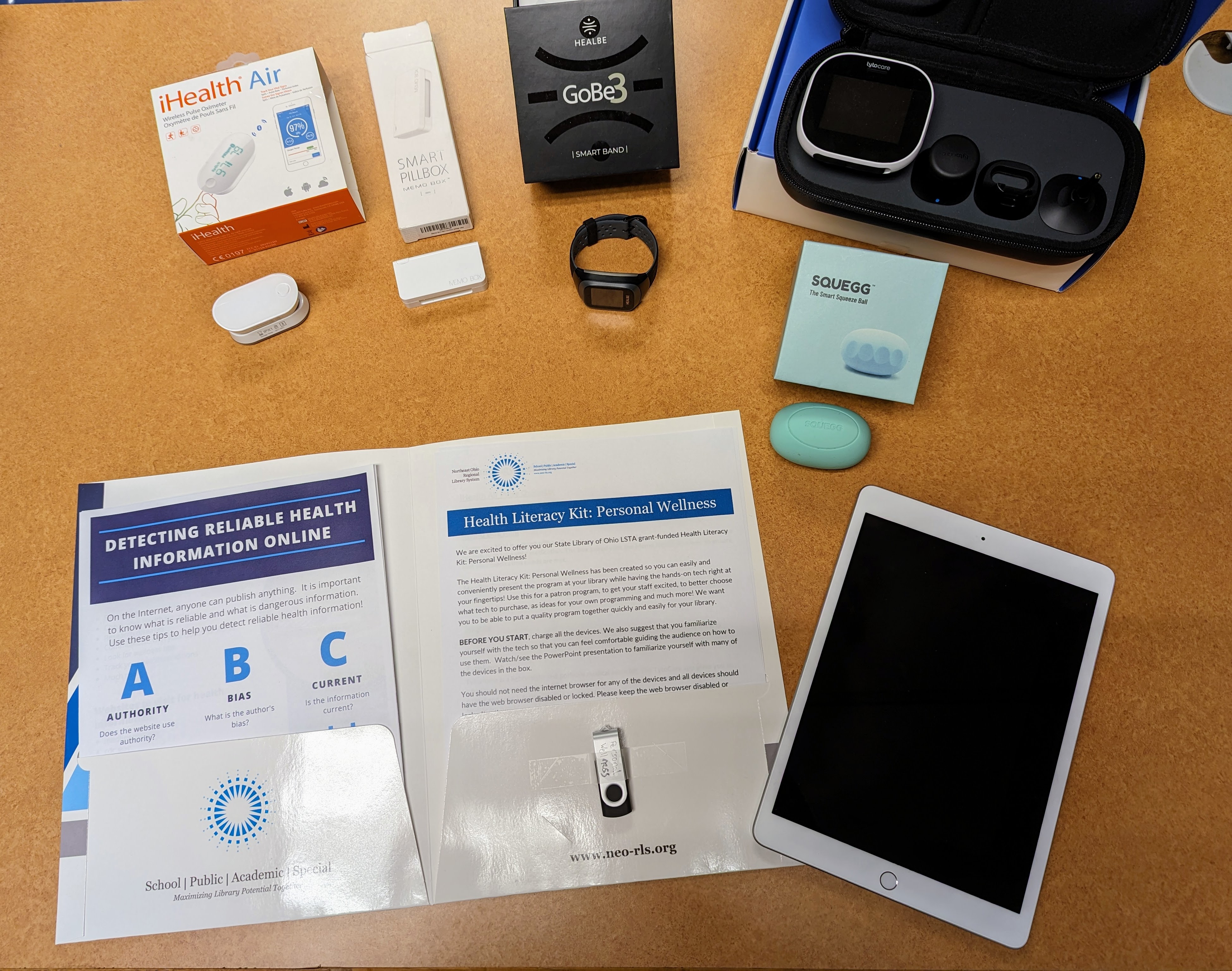 The
Health Literacy Kits
are fully developed adult patron or staff programs that you can take right out of the box and present! Each kit comes with the relevant technology for a hands on experience, a fully-developed and interactive PowerPoint presentation, and health literacy information and handouts. Choose from
Digital Fitness,
Home Health Technology, Personal Wellness
(pictured above), or
Preventative Health Technology.
The
STEAM e-Kits
come jam-packed with the most innovative technology needed to teach science, technology, engineering, art and math in a fun and exciting way. Each kit comes with lesson plans so you can begin teaching fun and directed classes immediately.
We know that one size does not fit all when it comes to technology and learning. Therefore, we created three distinct STEAM e-Kits according to different age groups and learning styles. You can choose from the
Children's Kit, Tween Kit, or the Teen Kit
, each with focused-technology to challenge children according to their age and skill level.
The VR Game Console Kit comes with everything you need to put on an immersive VR experience. We provide the Playstation 4 console, VR headset, a situational camera, processor, and two types of controllers. One VR Console Kit even comes with a small HD television in case your library does not have access to one. We include at least twelve games per console so your patrons are bound to find an adventure they are excited to experience!

The
Classroom Kits
provide an exciting and informative emerging technology program with everyone using the same technology. Each Kit comes with examples of lesson plans that you can utilize right out of the box, allowing you to easily and conveniently facilitate a collaborative and educational program. Both companies also have robust educational portals for online lesson sharing and programs.
Libraries have successfully used the Classroom Kits to provide fun programming for up to 30 students or children. Pairing them to work together enhances the learning experience and builds additional skills such as communication and team work.

The Ozobot Classroom Kit comes with twelve Ozobots and four tablets, everything you need for a collaborative and fun-filled program according to Ozobot.com. Ozobots are unique because they can be used with and without a tablet. In other words, you can teach the coding mindset with just paper and markers. These also come with all the peripheral material needed to charge the device and markers to provide an unplugged or plugged program.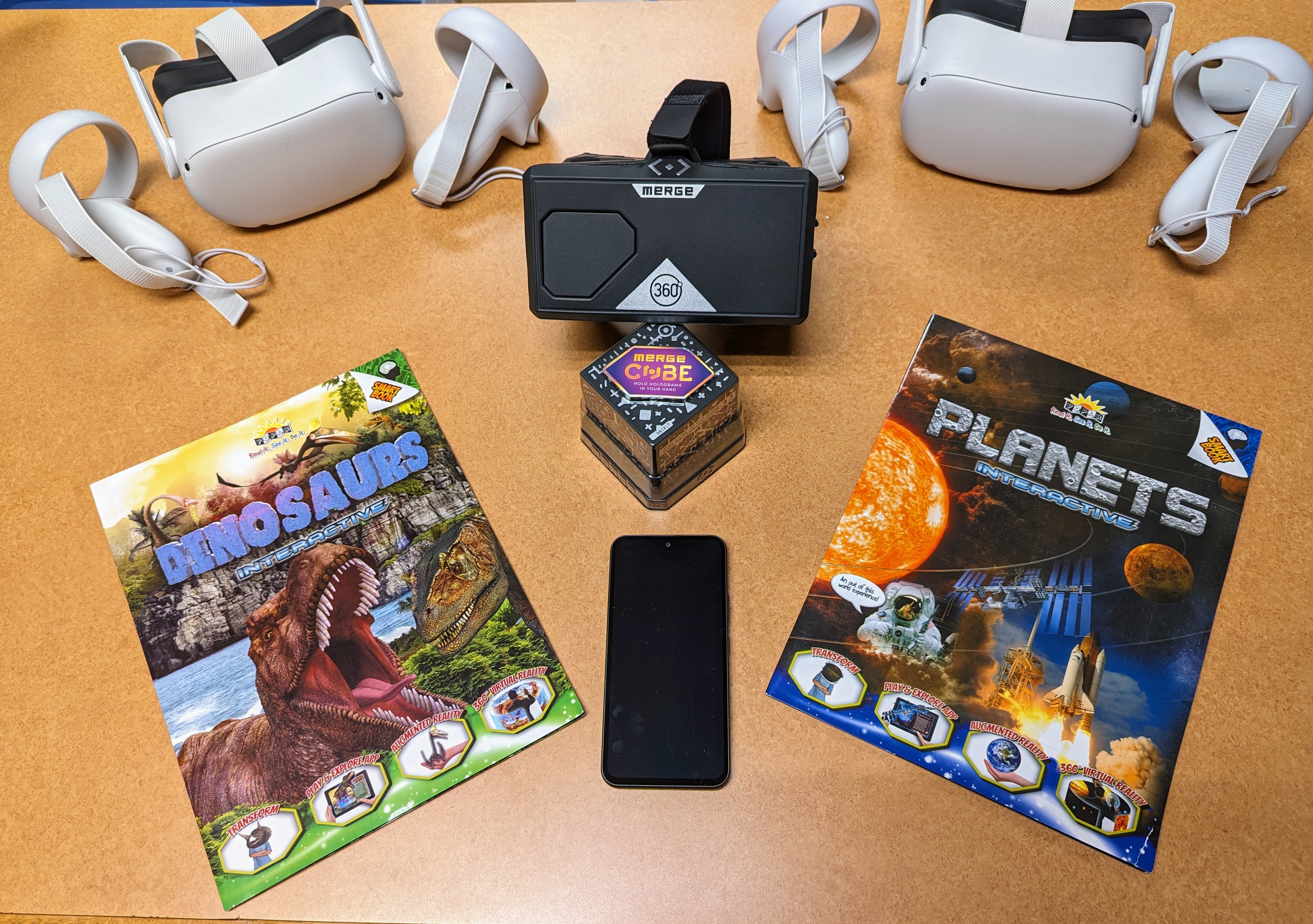 Whether you are interested in exploring the jungles of Malaysia, testing your spatial thinking skills, or replacing your hands with baseball bats, the
VR & AR Experiences Kit
(pictured above) features countless opportunities for learning and entertainment.
The
Podcast Kit
comes with the accessories you need to successfully record or stream video and audio. The kits come with accessories that can support both Apple and Android products as well as material for a laptop or computer. From wireless lavalier microphones to an HD webcam to tripods and mobile lighting, the Podcast Kit has all you need to perform a basic stream or recording session.