2023 New Supervisors' Academy
The 2023 NEO-RLS New Supervisors' Academy is looking for new attendees.
Becoming a supervisor adds new and different challenges to your work day regardless of the type of library you work in or the size of library you work in. The Academy's courses will provide you with the skills and confidence you need to handle the many and varied challenges of being a supervisor. Programs will focus on three key areas: leadership, communication and staff development. The Academy is appropriate for new supervisors in multi-type libraries and for those who want a refresher. We invite you to
register
today!
The Academy is a blended course which runs from February through November and consists of 4 in-person workshops, 2 online workshops and 5 webinars.
We recommend that you attend the Academy in its entirety in order to maximize your learning.
Archives of live webinars will be available at your convenience for those attending the Academy in its entirety and experiencing a scheduling conflict.
Live webinars will be available individually for registration for those NOT attending the Academy in its entirety.
Past participants had this to say:
"I enjoyed getting to know other supervisors and hear about their struggles and victories. Finding common ground was really nice since so many of us were in the same situation."Session 1
Thursday, February 23, 2023 - Twinsburg Public Library9:30 AM - 4 PM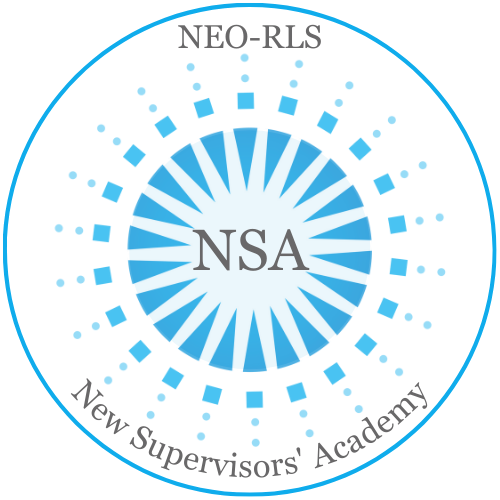 It all Starts with Attitude and Knowing YourselfSession 2Thursday, March 16, 2023 at 10:00 - 11:00 a.m. From Your Desktop
Change Course without Rocking the BoatSession 3
Tuesday, April 18, 2023 at 9:30 a.m to 12:00 p.m. From Your DesktopResolving Conflict through Trust and Team BuildingSession 4
Thursday, May 4, 2023 - Cuyahoga Falls Library
9:30 am - 4:00 pmSupervising with Confidence: A Skills AssessmentSession 5
Wednesday, May 31, 2023 at 10:00 - 11:30 am from Your Desktop HR Stuff Every New Supervisor Should Know: Having a Solid Legal FoundationSession 6
Wednesday, June 14, 2023 at 10:00 - 11:30 am from Your Desktop HR Stuff Every New Supervisor Should Know: Skills Needed to Effectively Manage PeopleSession 7Wednesday, July 12, 2023 at 10:00 - 11:00 am from Your Desktop
Time Management Yours and TheirsSession 8
Tuesday, August 22, 2023 at 10:00 am - 12:30 pm from Your Desktop
Boosting Your Leadership Self ConfidenceSession 9Thursday, September 14, 2023 - Stow-Munroe Falls Public Library
9:30 am - 3:30 pmSetting Performance Goals and Evaluations and Performance PlanningSession 10Wednesday, October 11, 2023 at 10:00 am - 11:00 am From Your Desktop
Practical Budget Management: How to Avoid Disaster, Make Smart Moves, Report Responsibly, and Stress Less About your Budget!Session 11Thursday, November 9, 2023 -Twinsburg Public Library
9:30 am - 3:30 pmInterviewing, and Caring for Yourself