2022 Customer Service Academy
NEO-RLS Introduces the Customer Service Academy!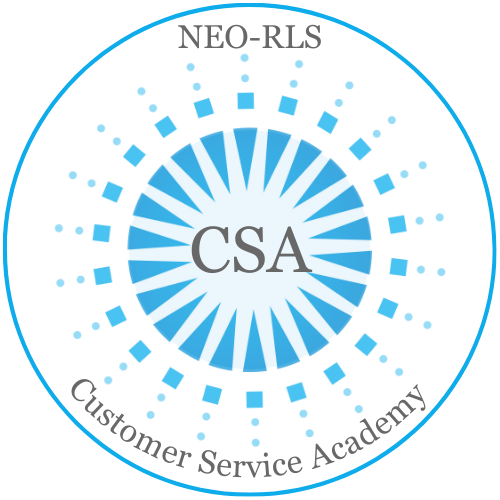 Customer service is one of the most frequently requested training topics as it impacts dramatically on a library's ability to serve its community. This is true in a public library, academic library, special or school library and across all levels of staff. In fact, no one in a library is exempt from providing excellent customer service. To that end, NEO-RLS has constructed a year-long Academy which we hope will inspire you to enhance your customer service skills whether you are new to the library scene or an experienced professional. In 2022 the Academy includes a variety of webinars and online workshops covering a number of different topics, all designed to help you provide more effective service, whatever your position.
Library staff in the NEO-RLS region who wish to participate in the Academy will be able to tailor the Academy to suit their needs. Every participant however, is
required to attend a minimum of 8 CSA designated live webinars or online workshops during the 2022 calendar year
in order to receive a Customer Service Academy Certificate of Completion. The online workshops and webinars that qualify are designated as the Customer Service Academy and bear this logo. Once you have completed the requirements, please contact
Melissa Lattanzi
, Continuing Education Coordinator, who will verify your participation and issue your Certificate of Completion.
Perfect your skills and add to your resume by participating!
The Academy is also open to library staff outside of the NEO-RLS region.
We hope you will feel inspired to increase your customer service skill set through the engaging and interactive workshops and webinars that are planned for 2021. We look forward to your participation.
See below for the February - June listing of the 2022 Customer Service Academy workshops and webinars and register today!
---
2020-2021 Customer Service Academy Graduates:


Jeannie C. Berlin of Warren-Trumbull County Public Library
Kelli Miller of Lepper Library
Denise Williams-Riseng of Cleveland Public Library
---
More being added each week. Check back!
FEBRUARY
2/10/2022
Transforming Your Library and Community through Relationship-Focused Service
MARCH
3/10/2022
Mental Health First Aid: A Virtual Training and Certification Course
APRIL
4/19/2022
Authentic Voices in Children's and Teen Literature: What's Socioeconomics Got to Do with It?
MAY
5/11/2022
Youth Mental Health First Aid
5/18/2022
Handling Patron Content Concerns in Challenging Times

JUNE
6/8/2022
Serving your Immigrant Population

AUGUST
8/11/2022
Discovering DEI
8/17/2022
Patron Response Framework: Responding with Empathy, Kindness, and Love to difficult situationsSEPTEMBER
9/7/2022
Understanding Our Limits: How to Set Boundaries with Library Patrons
9/13/2022
Safe Space - LGBTQ+ Cultural Competence Training
OCTOBER
10/19/2022
Kindness in the Workplace: Self-Care, Mindfulness, and Remaining Positive

NOVEMBER
11/2/2022
Intersectionality 101DECEMBER
12/1/2022
Recognizing Bias
12/14/2022
Addressing Microaggressions