2020-2021 Award Winners and Honorees
NEO-RLS thanks all of our
2020-2021 Honorees
for their contributions to the libraries of Northeast Ohio and congratulates the 2021 winners of the Rising Star Award, Shooting Star Award and Advocacy Award.
The NEO-RLS Rising Star Award
We are pleased to recognize the winner of the
2021
N
EO-RLS
Rising Star Award, Amanda J. Balla
,
Teen and Patron Public Services Librarian, Hubbard Public Library.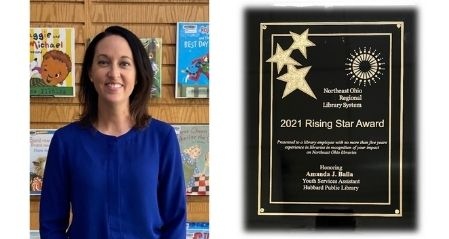 Amanda Balla began her work in libraries in 2017 as a Youth Services Assistant at Hubbard Public Library. Her first experiences at HPL were when she brought her sons to early literacy programs and activities. From that beginning, she was inspired to pursue her career as a Children's Librarian. She completed her MLIS from Kent State University in August 2020 with a focus on management of information and youth engagement. She was the recipient of a Vanita Scholars Youth Services Scholarship in 2020, awarded to students who demonstrate an interest in working with children and/or young adults who face cultural, personal and/or environmental challenges in today's society.
At HPL, Amanda has implemented "Curiosity Corner" in the Children's Room, featuring hands-on activities that encourage imaginative play and interaction between children and their parents and caregivers. She has implemented technology to increase communications with patrons, and she initiated the use of Beanstack to meet virtual programming needs. Amanda's efforts have resulted in exceptional growth in several programs. She has increased Babytime program attendance by more than 300% through the use of increased social media, the Remind app, and word-of-mouth marketing. As a result, the number of weekly programs for this age group has doubled. Her efforts on behalf of tween programming have increased participation by more than 70%. Amanda works with children with diverse abilities and requirements, including children with autism and other neurodiverse learning differences. She utilizes a wide range of physical and electronic materials and resources to help others accomplish their learning and literacy goals and information needs in the best ways possible.

Congratulations Amanda Balla, 2021 recipient of the Rising Star Award!


The NEO-RLS Shooting Star Award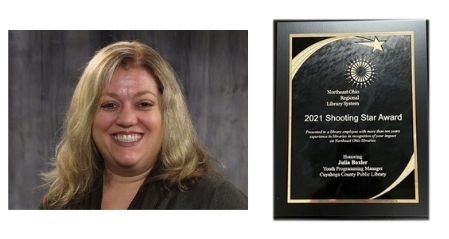 We are pleased to recognize the winner of the
2021

NEO-RLS

Shooting Star Award,

Julia Boxler

,
Youth Programming Manager, Cuyahoga County Public Library
Julia Boxler is the Youth Programming Manager at the Cuyahoga County Public Library, a position she was promoted to in 2013, after serving as a Youth Programming Specialist beginning in 2007. From 2001-2007, Julia served as the Teen Librarian at the Warrensville Heights Branch of CCPL, and at the Willowick and Eastlake Branches of the Willoughby Eastlake Public Library in Lake County. Julia has been an integral lead in a number of youth initiatives at CCPL, including the expansion and re-imagination of homework services, the creation of a new avenue of programming to assist youth who struggle to meet the third-grade reading guarantee, the coordination of Parent Engagement programming, including a kindergarten readiness initiative, and the ongoing creation of partnerships with local organizations to support youth with special needs and their families. Julia has co-led the Summer learning initiative to offer as many as 101 Summer camps, with over 9,500 prize books for youth awarded. Under Julia's leadership since 2007, Homework Centers and Mentor Services at 24 branches have seen over 17,000 visits by students in grades K-8 per year. Since 2013, Julia has overseen 1-2-3 Read, grade level reading programs, at 11 locations which has assisted 1000 families with primary grade youth who struggle to read meet the third-grade reading guarantee. Since 2014, Julia has overseen Baby Club/Kindergarten Club Parent Engagement programming at 26 locations, supporting over 1,200 families to help prepare their young children to learn and succeed in school.
Congratulations Julia Boxler, 2021 recipient of the Shooting Star Award!