2016-2017 Honorees and Award Winners
NEO-RLS thanks all of our 2016-2017 Honorees for their contributions to the libraries of Northeast Ohio.
We also recognize the 2016-2017 recipients of the following NEO-RLS Awards: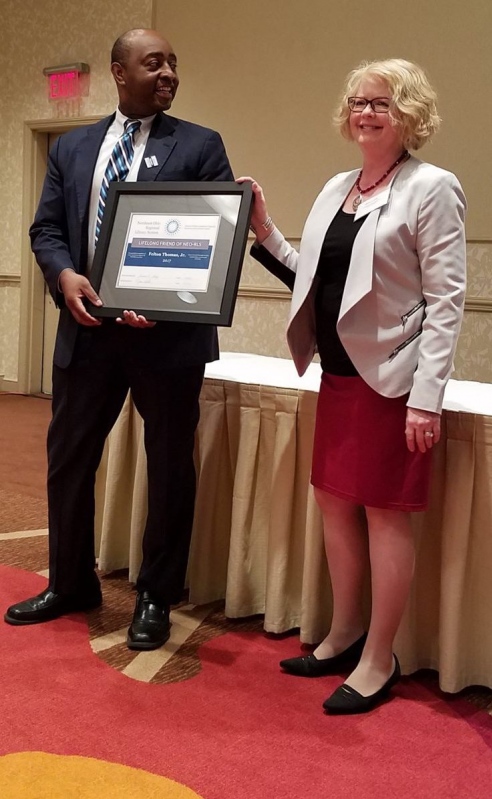 Lifelong Friend of NEO-RLS Award
The Lifelong Friend of NEO-RLS Award is presented in recognition of an individual who has significantly supported NEO-RLS over time through their service, membership, passion and advocacy. Nominations are made by the Board of Trustees and take into account service contributed, membership status and advocacy. Selection of the recipient is made by the Board of Trustees. The winner of the 2016-2017 Lifelong Friend of NEO-RLS Award is Felton Thomas, Jr. Felton Thomas, Jr., is the Immediate Past President of the Public Library Association and was appointed director of the Cleveland (Ohio) Public Library (CPL) in January 2009. Prior to accepting the position of director of CPL, Felton served as director of Regional Branch Services for the Las Vegas-Clark County (Nev.) Library District and President of the Nevada Library Association. He has served on the PLA Board of Directors since 2012, and most recently was named to the Aspen Institute's Task Force on Learning and the Internet in 2014. His awards and accomplishments include being named a "Mover and Shaker" by Library Journal, and being selected as White House Champion of Change for Making in 2016.

Felton has presented for NEO-RLS, and under his direction, Cleveland Public Library has been a constant member. He is an outspoken advocate of continuing education and professional development at all levels, as evidenced by the involvement of his staff and managers on a variety of Advisory Groups and Board Committees and, as presenters and participants in webinars and workshops.
The NEO-RLS Pat Carterette Award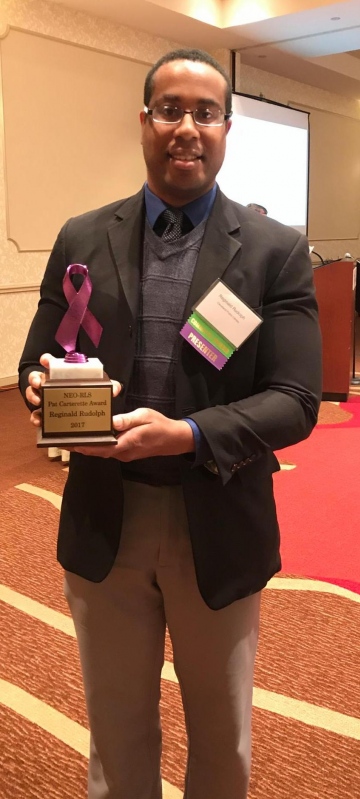 The NEO-RLS Pat Carterette Award is presented in recognition of an individual who has significantly assisted NEO-RLS, at no cost, in providing library staff training and development in the Northeast Ohio region during the past fiscal year. Nominations are made by the NEO-RLS staff and take into account the time contributed, content relevance and need, and regional
impact. Selection of the recipient is made by the Board of Trustees.
The winner of the 2016-2017 NEO-RLS Pat Carterette Award is Reginald Rudolph. Reginald ("Reggie") Rudolph is the Assistant Lending Supervisor at the Cleveland Public Library. Reginald is a Library Professional that has worked in Libraries for 15 to 16 years. While not intentional, he has been fortunate enough, to work on the front lines and behind the scenes for four different libraries across different focuses including Page Services, Circulation Services, and Technical Services. Reginald utilizes his skills and knowledge from all of those experiences in his current position.

Reginald serves on the NEO-RLS Continuing Education Advisory Committee and traveled to three different locations to present "Dealing with Difficult Patrons" for A Day for Circ Staff workshops. He also assisted Melissa Lattanzi in the facilitation of the roundtable discussions for A Day for Circ Staff.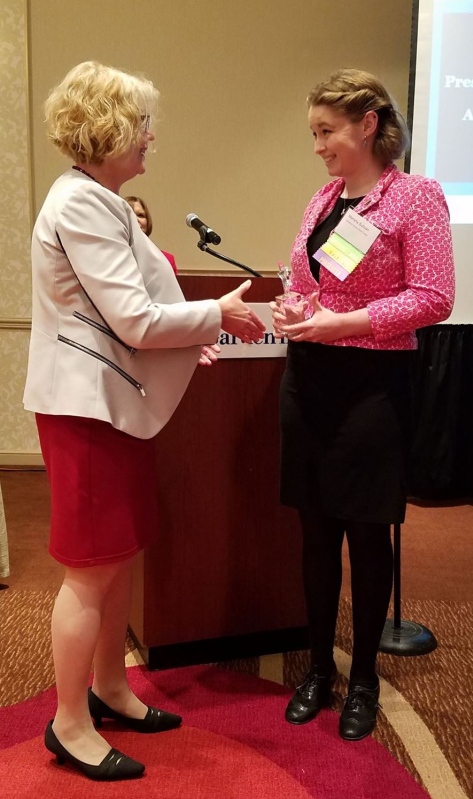 The NEO-RLS Rising Star Award
The NEO-RLS Rising Star Award recognizes an individual who has been working in libraries less than 5 years but is already making a huge impact and is, in fact, a rising star in northeast Ohio. Individuals are nominated and the selection of the top 3 nominees and the Rising Star Award recipient is made by Beverly Cain, State Librarian, State Library of Ohio. The winner of the 2016-2017 NEO-RLS Rising Star Award is Marisha Sullivan. Marisha Sullivan is a Teen Librarian at the Ashtabula County District Library. She is relatively new to the field of librarianship, but has hit the ground running. Her programming specialties include STEM programming (especially computer coding, engineering, and emerging technologies), and anything involving geek culture. In her semi-existent spare time, she likes to read steampunk, fantasy, independent graphic novels, and anything else that her library kids love. She is a strong LGBT+ advocate, teaches theatre, has a cat named Hufflepuff, and might have a problem with buying too much tea. She may be freely approached in her natural habitat, as she is widely considered to be about as dangerous as a basket of baby bunnies.

Marisha's nominator wrote the following: "Marisha came on board as our first Teen Librarian in early spring of 2016. Her attention to a long-neglected YA print collection and subsequent marketing efforts have brought a 57% increase in YA fiction circulation and a more than 400% increase in YA non-fiction circulation over previous years. She was able to increase the total attendance at teen programs from 8 to 121 participants. Marisha redesigned the library's website and remains as a co-webmaster and developed and runs programs on coding, video game design, robotics and drones. She is also a valuable partner with community organizations such as the YMCA, Family Planning Association, Junior Achievement, Ashtabula Arts Center, Kent State and Ashtabula Area City Schools. The difference between a good librarian and a Rising Star is the passion they bring to their work. Marisha's desire to connect with and love and support her charges is palpable. She's changing the world, one teen at a time."